1984 (Recommended Reads)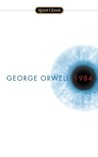 1984 by George Orwell
My rating: 5 of 5 stars
Before I begin this one, let me tell you this is about the third attempt as the two, I believe, previous drafts disappeared with no trace, accompanied by my expletives and helplessness. Yet this book, cannot be left out of a recommended list. So I try again…
More than likely, you have read it, or at least heard of 1984, and my sentiments would merely be an out of tune echo to those reviewers that have done it more justice. However, I address in particular those of you like me – who may lose concentration, who take quite a while to read longer books, who may even have got part way through many books as they sit on the never completed shelf.
This novel is more than a literary piece. At times, it isn't an easy pick up and read. George Orwell has created his own world with its own facets and terminology. It is a fictional story with the integrity of a non-fiction piece. It was a book, that at more than one point, I found that I would leave and come back to, re-reading paragraphs. Yet this was definitely worth persevering with. Particularly as the tale comes to a close, it is gripping, engaging, and I found myself becoming the character, questioning what I would do in that situation and pondering about my very existence. It is that deep, and it fully deserves its place among the must-reads that have been interpreted and delved deep into to try to understand the mind of great authors ahead of their time.
I always speak of 1984 in the same breath as Brave New World, which I also recommended, because they are the two contrasting sides of the same coin. Both dystopian novels frighteningly relevant in elements of todays world. Both were novels that have stood the test of time. Though the authors created their own worlds with their own dystopian narrative, both importantly make you think and reflect in the kind of way only great books can.
The bottom line is, both are most definitely worth the read.
NB: I apologise if this review probably isn't as good as how it was initially set out the first few times they were drafted – I hope you can empathise.